Established by the National Center for Assisted Living (NCAL) in 1995, National Assisted Living Week® recognizes the role of assisted living in America while providing a unique opportunity for residents, their loved ones, staff, volunteers, and the surrounding communities to recognize the role of assisted living in caring for America's seniors and individuals with disabilities. The annual observance encourages assisted living communities around the country to celebrate the individuals they serve while simultaneously educating members of the public about what assisted living truly looks like.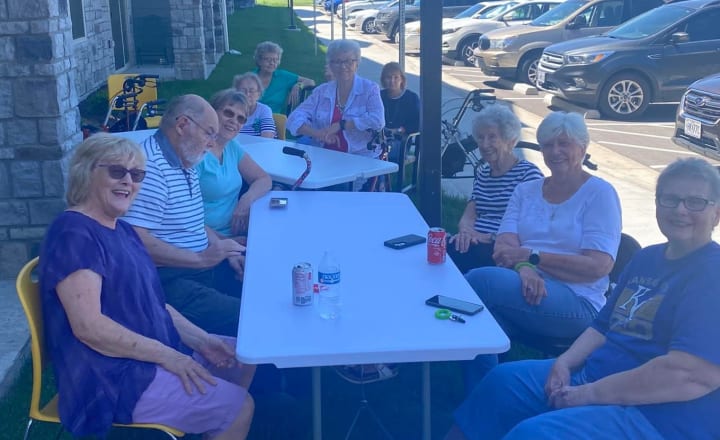 This year, The Princeton Senior Living is celebrating the 2022 theme of "joyful moments" from September 11th to September 17th by recognizing how each department plays a role in creating joy for our residents and staff members. ​​​​ ​
Leading a senior community means four things to me. First, it means caring for the senior living residents and their families. This also includes caring for the employees who care for the residents. Leaders must balance the needs of both residents and employees.
Second, as the primary advocate in the community, being a leader means acting as a liaison between the staff and medical providers, so the resident experience in the community remains positive and memorable.
Next, being a leader means ensuring that we offer a variety of both low and high-impact programs and events to improve the quality of life for the residents as well as prevent the residents from feeling alone and isolated.
Finally, and most importantly, leading a senior community means having vision; the ability to see where we want our team and community to be 10, 20, or 50 years from now.
Our team uses a variety of ways to create joyful moments in the community. For instance, more than 25 residents participated in our spur-of-the-moment pajama day party. The residents and staff members wore their pajamas throughout the day, enjoyed pajama party foods (hotdogs & pizza), and took plenty of great photos for our Facebook page. We wanted to end the party by having a giant pillow fight, but the residents changed course because they didn't want to mess up their hair or break a nail.
In addition, during our August job fair, more than 20 residents enjoyed music, food, and games. The residents also had the opportunity to engage with The Princeton Senior Living staff and some of our future employees. Something is always going on in our community from table games, Friday Happy Hour, to gathering to watch a baseball or football game. These games are a highlight for many of our residents.
Princeton residents were asked: - What brings you the most joy living at The Princeton Senior Living?
Cliff K. - "Getting to share meals with new friends and even my family members. I also enjoy the excitement of being inspired by so many caring staff members."
Charlotte B. - "The staff are so kind and caring. Everyone treats me like family and is nice."
Evelyn H. - "Not only is the staff amazing, but the residents are just as kind and helpful!"
Princeton residents are making new memories too. Here are their responses when asked: - What is your favorite memory of your time here so far?
Cliff K. - "Being able to discover new friends who are spiritually motivated and enjoy having a good time.
Charlotte B. - "Making new friends through activities such as manicures and bingo."
Evelyn H. - "Attending various activities and being able to make new friends."
We plan to make National Assisted Living Week special in our community. All department heads will work in a collaborative manner to ensure each day of the week is filled with fun and engaging activities. They will include sports and trivia competition, dog day at The Princeton, table games, dancing, Happy Hour with special talents, Saturday brunch, and much more.
Follow us on Facebook to witness all our joyful moments, but especially from September 11th to September 17th as each department celebrates National Assisted Living Week and the many ways each team brings joy to our community staff and residents!
#NALW #whatseniorlivinglookslike