September is "National Good Neighbor Month," and in the spirit of this special time, we would like to take the opportunity to share about a unique part of our senior living community - our Memory Care Neighborhood.
Here at The Princeton Senior Living we strive to make our Neighborhood a special place, not just for our residents, but for everyone who comes to visit and join in our daily festivities. We celebrate being good neighbors every day.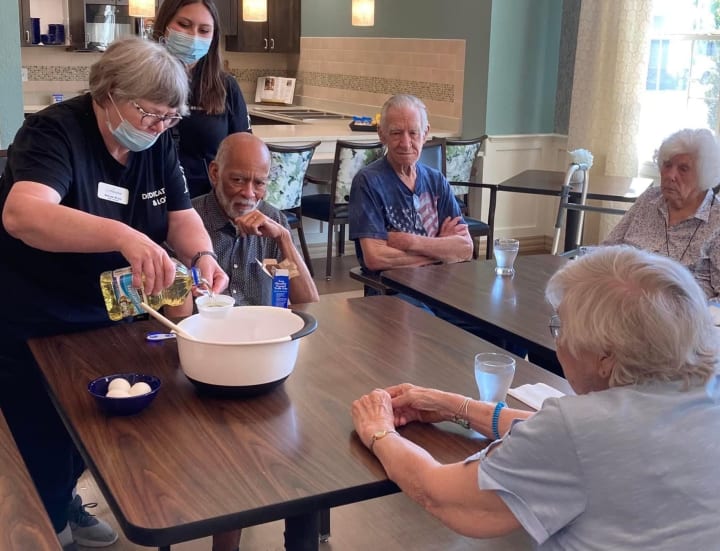 We call our Memory Care communities "Neighborhoods." Here at The Princeton, we want both our residents and their families to feel like they belong and are a part of something, our Neighborhood. This is a special place for our residents because of the environment our staff, families, and residents have created. When any staff from The Princeton enters our Neighborhood, they always speak to our residents first and check in on them. When families come to visit, they talk with all our residents, the same way they would visit with old friends. Family members who often bring goodies to share. Our residents are always including everyone in what they do. Their favorite is making treats to share with staff, families, and each other.
As a new community, our Neighborhood is such a special place for our families. We are growing and learning together, and each day is new for all of us. The saying "we are in this together" rings so true for us here at The Princeton. We provide additional support to our families by providing a monthly, in-person education, online education with our Regional Memory Care Team, and a weekly zoom Memory Care support group with our amazing Licensed Clinical Social Worker Sandy.
September is also Alzheimer's month. There are many ways to support people who are living with dementia. Being a good neighbor looks different for everyone. We love our neighbors who share with us their most valuable possession, their time. We have had a neighbor from our independent living community who made and donated clothing protectors. We have had family members bring in pie, help us build bird houses, and play games with us. However, one big way to support our Neighborhood this month would be to donate or attend our bake sale on September 23rd, purchasing a raffle item, or voting for which staff member you would like to see get a pie in the face with all proceeds going to The Alzheimer's Association. The Princeton has a team participating in the annual Alzheimer's walk. You could even join or form your own team as we walk on October 2nd.
We encourage everyone to be a "good neighbor" and find ways to engage and make a difference in the lives of individuals living with dementia. You don't need to have a special talent, just a heart for others around you. If you would like more information about volunteering in a Memory Care Neighborhood near you or if you are caring for someone with Alzheimer's or dementia, we would love to help!