In 1983, President Ronald Reagan proclaimed November as National Alzheimer's Disease Awareness month, bringing the plight of those facing the diagnosis, and the need for a cure, to the forefront. Today, there are more than 6.2 million Americans living with Alzheimer's Disease, and while research continues, a cure is yet to be identified. Arrow Senior Living is working to heighten awareness of Alzheimer's disease during the month of November through discussion and education.
Alzheimer's Disease is the most common type of dementia. It is a progressive disease that affects one's memory, behavior, language, and participation in activities of daily living. Individuals living with Alzheimer's will need higher levels of care to ensure their safety and ability to do everyday things.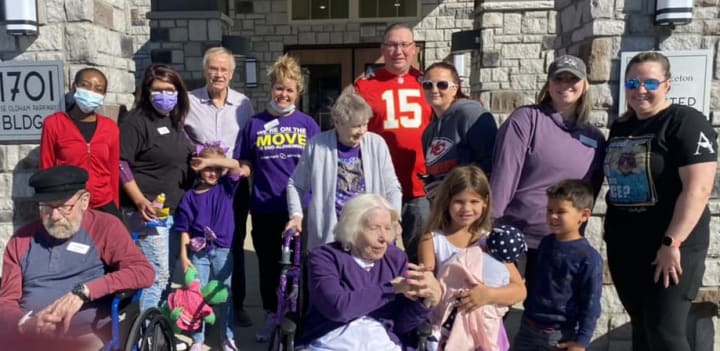 There is currently no cure for Alzheimer's Disease. The use of medications may help to manage the symptoms. Through ongoing research and fundraising efforts, we continue to get closer and closer to finding a cure for Alzheimer's.
We can help and engage individuals with Alzheimer's disease. Through use of person-centered care, we create a care plan that is tailored to each one of our resident's needs. We start by meeting with our residents' families to figure out what each resident likes and doesn't like. We provide all our residents with a structured daily routine that allows them to be engaged and live a full and purposeful life.
Anyone living with Alzheimer's, or another form of dementia would benefit from our Memory Care Neighborhood in so many wonderful ways. Using our daily routine we provide daily news currents, physical exercise, engagement of all types, whether it being social, cognitive, physical, creative, musical, or spiritual. The list goes on and on. We all long for a need for purpose, a place in this world, and that is what we provide our residents. We tap into their strengths and interests to engage them and help them live their best life daily. Most importantly, when someone is living in our neighborhood they become a member of our family, as well as each other's families. It is rare for a family member to leave their loved one and not make their rounds acknowledging everyone in our Neighborhood. Here everyone is welcomed and included.
At The Princeton Senior Living we continue to increase our knowledge of Alzheimer's through ongoing education, so we can better empower those living with the disease and help their families to better cope. Our Memory Care Neighborhoods maintain awareness of this disease, while offering engagement, safety, and comfort to our residents.