Planetary Scientist Carl Sagan once said, "One of the greatest gifts adults can give - to their offspring and to their society - is to read to children."
Putting books into the hands of children and forming meaningful intergenerational relationships is a priority for Arrow Senior Living communities! To support our efforts, we have launched what we call "Arrow Story Corner." Each month a resident records the reading of a children's book that highlights an "Arrow Tradition," and these stories are shared online for all to hear. This tradition has grown from our company-wide Black History Month Story Corners, where residents all around Arrow Communities read children's books highlighting black figures in history.
To support small businesses and literacy efforts, we host a fundraiser and partner with the EyeSeeMe Children's Bookstore to purchase and donate copies of the books we read to local schools, and then a portion of our fundraising efforts also support The EyeSeeMe Foundation. The Foundation's mission is to create programs that increase childhood literacy for under-served communities and to promote African American History and multicultural literature that will increase respect and tolerance for diverse cultures.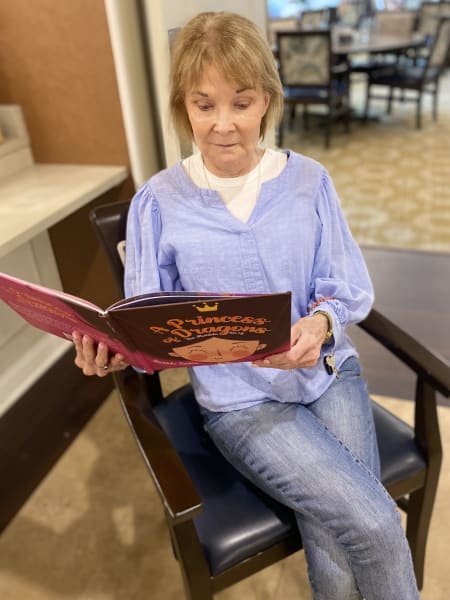 This month, The Princeton Senior Living is taking things a step further and embarking on the adventure of monthly Story Corner events in our community. One of our very own residents will read the Story Corner book of the month to children, as well as other residents, and share in a craft event and snack time. The featured book will then be added to our community library for residents to read to visiting grandchildren. A copy of the book will also be donated to local schools with which our community partners.
Story Corner is the perfect opportunity for residents to build relationships with children in and around the Lee's Summit community. Getting the residents involved in sharing their love for reading with our younger generation is something these children will remember for years to come. As a mother of young kids, I tend to find it challenging to get them to read; however, when I mentioned Story Corner, my youngsters were so excited to get to come with me, see my residents, and read with them. It's the perfect time to bond with them and show them that learning, and reading can be fun!
We have partnered with a few different schools around our community, but Stony Point Elementary and Sunset Valley Elementary schools are the two which we've made the strongest connections. It has been fun to explain to the students what we have going on here at The Princeton and inviting them to our different events, like Story Corner.
The residents love watching the kids get involved and participate in our Story Corner event. Some of the residents had their great-grandchildren attend. It was a sweet moment to watch them bond with their families and appreciate the activities that were set up with this event.
All our Arrow communities encourage adults to give the gift of reading to youngsters. The relationships formed during the time spent between the reader and listener can be life changing for both generations.